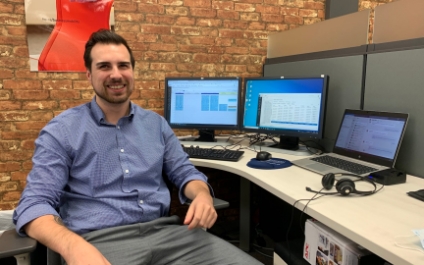 Scott Ritchie joined our team in October to increase the number of Help Desk technicians we have on staff. Scott graduated from Sheridan College earlier this year from their Software Development & Network Engineering program. While at Sheridan he also worked part-time in their Technology department supporting staff and students with their technology related issues both in person and remotely.
On top of his college diploma, Scott worked hard to also achieve the IBM Cybersecurity Analyst certification this summer. This in-depth study helped develop essential knowledge and skills for today's dynamic cybersecurity workforce.
Since starting at PCM he has been busy getting up to speed on our support tools and best practices. His attention to detail and efficiency are skills we have come to appreciate as he augments our team of Help Desk technicians. Please be sure to give Scott a warm welcome should he be assigned to work on your support request!
Did you know that PCM currently supports 65 clients with over 1,900 computers? It's something we take seriously and by adding experienced resources to our team we hope to maintain the service level that our clients expect.